CIVER-PSYCH®
Benefits
10 Reasons Why
Unique Features
Components
Clinical
Reference Materials
Scheduler
EHR
Billings and Claims
Data Warehouse
Development Tools
Add-On Products
CiverExchange™
CiverExtract™
CiverMail™
CiverOrders™
CiverSubmit™
System Requirements
Hardware
Software
CIVER-PSYCH® automatically consolidates all clinical and scheduling information for each patient, session-by-session with the date/time stamps and user signatures, within a Patient History (e.g. Electronic Health Record)

The Patient History is divided into sections. (Intake, Appointments, Assessment, Symptoms, Diagnosis Treatments, Resources, Medications, Monitoring, Reports, Notes and Outcomes).

All interventions (e.g. forms visited, diagnoses confirmed and reports generated) are automatically recorded. The EHR can be consulted to see the chronology of services rendered in respect of each patient.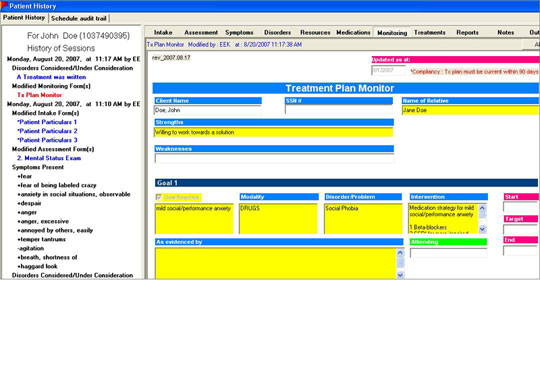 Website by EKdesigns 2008
Copyright© 1995-2016 Civerex Systems Inc.