CIVER-PSYCH®
Benefits
10 Reasons Why
Unique Features
Components
Clinical
Reference Materials
Scheduler
EHR
Billings and Claims
Data Warehouse
Development Tools
Add-On Products
CiverExchange™
CiverExtract™
CiverMail™
CiverOrders™
CiverSubmit™
System Requirements
Hardware
Software
The Clinical component comprises a number of modules that provide users with customizable data collection forms, powerful decision-support facilities and comprehensive reference material.

Workflows are accommodated starting with capture of Summary Demographics via the telephone or through the initial interview/assessment and continuing throughout the diagnosis, treatment planning, needs management, ongoing monitoring, to the case closure and outcomes data collection.

Forms such as these are agency-definable. No knowledge of programming is required to paint such Forms and place them into service. The system automatically extends the underlying data structures, links new storage areas to Form Fields and deploys the Forms.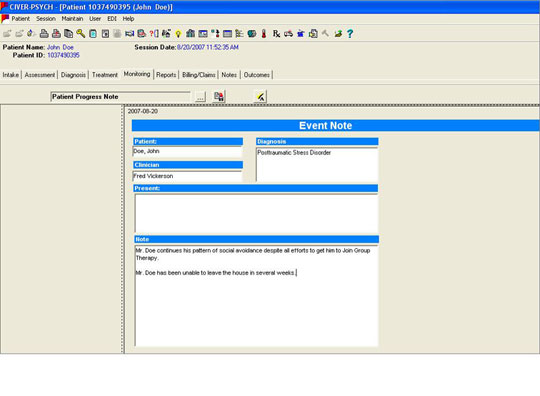 CIVER-PSYCH®'s Clinical component is perceived as the most sophisticated in the market. Not only is it made up of seemlessly integrated modules from intake, assessment, diagnosis, treatment planning, on-line notes and outcomes data collection, it also has the following attributes; its customizable data collection forms allow users to adapt the system to their current and changing needs. Affirmed symptoms on Assessment forms tag the symptoms on the CIVER-PSYCH master symptoms/signs directory. Decision-support routines can then automatically identify candidate disorders. Diagnoses can be validated and disorders ruled in/out in difficult to diagnose forensic situations. Four different ways of reaching and recording diagnoses are possible.

The ability to embed scales/instruments within CIVER-PSYCH makes it possible to carry out scoring dynamically during the recording of observations. Test results are automatically added to the patient's Electronic Medical Record, resulting in access to case files. Confirmation of a diagnosis highlights relevant Treatment Texts and Medications.

CIVER-PSYCH also provides flexibility to generate custom treatment plans to suit the specific needs of individual patients. The fact that CIVER-PSYCH supports both a medical and non-medical model means that treatments can be developed not only for disorders but also for problems, syndromes and even individual symptoms.

CIVER-PSYCH is one of the few systems that are able to extract and consolidate data across multiple forms to produce syntactically correct, multi-page, true narratives. This eliminates costly dictation /transcription fees.

Significant timesavings can be achieved by making use of voice recognition software such as L&H VoiceXpress to dictate Progress Notes into CIVER-PSYCH.

By engaging CIVER-PSYCH's powerful Parser, texts can be analyzed for keywords and related fields across all forms and can be automatically updated.
Website by EKdesigns 2008
Copyright© 1995-2016 Civerex Systems Inc.