CIVER-PSYCH®
Benefits
10 Reasons Why
Unique Features
Components
Clinical
Reference Materials
Scheduler
EHR
Billings and Claims
Data Warehouse
Development Tools
Add-On Products
CiverExchange™
CiverExtract™
CiverMail™
CiverOrders™
CiverSubmit™
System Requirements
Hardware
Software
CiverSubmit™
EDI Message Processing
CiverSubmit™ is an EDI format specification tool that runs as a background task to CIVER-PSYCH®. and allows users to send and receive EDI messages.

CiverSubmit Benefits
Reduces claim submission/remittance cycle


Billing cycles can be set to daily instead of weekly or monthly as a result of automation of processing steps.



Reduces errors on claims


Provides flexible processing options (e.g. rejection of an entire data set on errors, or partial processing with routing of failed transactions to an error file), resulting in "clean" outgoing data and consistent incoming data.



Automates generation of outgoing EDI files


Request for authorizations and claim files (full suite of HIPAA formats, e.g. 270,278,837 etc.) can be automatically generated to Payors.



Automates processing of incoming EDI files


Incoming EDI files (e.g. 278, 835 etc.) can be automatically processed to Patient Records.



Accommodates custom EDI formats


Allows Agencies to build custom EDI formats for intra-hospital lab/pharmacy EDI data exchange.



Reduces network traffic


When used in conjunction with CiverExchange™, CiverSubmit can generate custom EDI files for each intended recipient, resulting in reduced network traffic.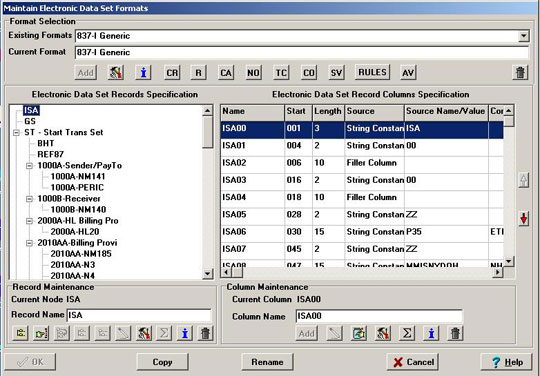 Format Specifications for the 837 HIPAA Format
Website by EKdesigns 2008
Copyright© 1995-2016 Civerex Systems Inc.