CIVER-PSYCH®
Benefits
10 Reasons Why
Unique Features
Components
Clinical
Reference Materials
Scheduler
EHR
Billings and Claims
Data Warehouse
Development Tools
Add-On Products
CiverExchange™
CiverExtract™
CiverMail™
CiverOrders™
CiverSubmit™
System Requirements
Hardware
Software
CiverOrders™
Workflow Development/Workflow Management
CiverOrders™ is a graphic workflow development/workflow management environment that allows agencies to implement their administrative and clinical 'best practices' as workflow templates that guide processing of individual Patients along care pathways. CiverOrders is part of the CIVER-PSYCH® Behavioral Healthcare Management and the CIVER-MED General Medical software suites.

CiverOrders Benefits
Shortens workflow development process


The free-form CiverOrders graphic environment allows agencies to develop and deploy workflows in real-time during strategic planning sessions. This greatly shortens the workflow development process.



Simplifies case management


CiverOrders eliminates the need to manually navigate to modules/forms. Users need only consult their Orders InTrays to see what the next intervention is for any Patient. Clicking on the next intervention automatically retrieves and posts all required forms.



Increases staff efficiency


Encouraging staff to use best practices results in streamlining interventions without constraining clinician creativity or failing to accommodate individual Patient's needs. As one intervention is completed, there is no need to worry about who should perform the next intervention, or how, where or when it should be performed since CiverOrders automatically and immediately posts the next intervention to the appropriate person.



Decreases administrative and clinical errors


Workflows plus in-line corporate compliance at key intervention points on care pathways (i.e. chart review) greatly decrease administrative and clinical errors (i.e. the system will block processing if compliancy checklists have anything missing).



100% Audit Trail


Regardless of whether staff precisely follows workflows, skips or jumps over interventions, or inserts ad hoc interventions, the system posts a date and time-stamped record of each intervention, complete with user electronic signature(s), to the Patient's Electronic Health Record (EHR). Users may recall any intervention to see data as it was at any point in time, on the form versions that were in service at that time.



Improves compliance


CiverOrders virtually eliminates 'management exception reports'. Since the system blocks errors as identified, the number of exceptions that creep in due to the impossibility of setting rules for every possible eventuality is greatly reduced. Compliance is improved as a result of anticipating problems and taking action before they occur rather than having to fix problems after the fact.



Improves organizational and patient outcomes


The use of situation-specific best practice templates, in conjunction with in-line compliance checking at the individual transaction level, increased efficiency in the rendering of interventions and reduced errors, will, all other things being equal, improve both organizational and individual Patient outcomes.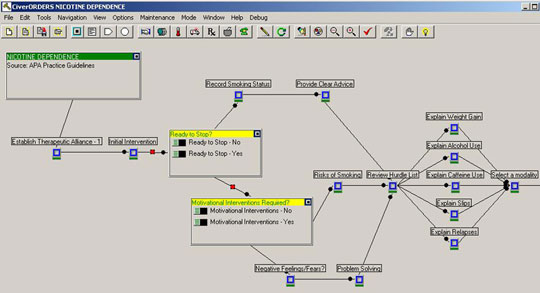 Website by EKdesigns 2008
Copyright© 1995-2010 Civerex Systems Inc.