CIVER-MANAGE™
Free-Form Knowledgebase Builder
CIVER-MANAGE is a free-form knowledgebase builder that enables organizations to create and graphically manage thousands of information items at a single sheet or canvas. It can be used in a wide range of contexts across multiple industry and application areas (i.e. asset management, strategic planning, document control and operational control).

CIVER-MANAGE Benefits
Helps build, organize, search and manage massive amounts of diverse information from multiple sources.
Easily builds and maintains a knowledgebase comprising any mix of forms, documents, spreadsheets, images and web site links.
Provides a free-form search capability across the entire database.
Exports to PCs and laptops for collaborative efforts.
Tracks design changes, i.e. built-in revision control.
100% audit trail on changes.
Resource allocation and leveling across multiple users.
Includes capability for upload, merge and synchronization.
Includes a forms builder and search engine.
Applications
CIVER-MANAGE is an environment of choice for strategy formulation and organizational development.(corporate asset inventory, products, products under development, policy and procedure, legislation, competition, technology, operational summary data, KPIs).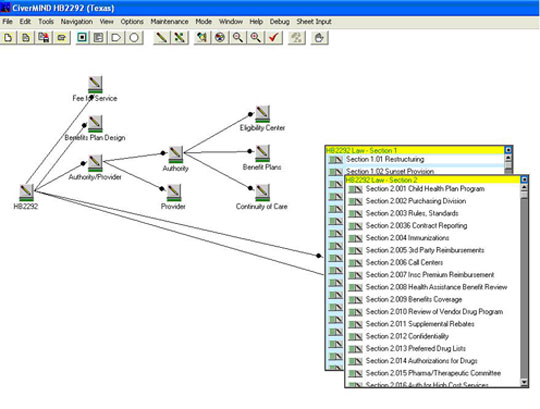 Plan for Re-organization of Services under HB2292(TX)
CIVER-MANAGE can be used for certification/accreditation to standards - remote users typically download sub-sets of a CIVER-MANAGE sheet, work on individual certification criteria and then upload, merge and synchronize their data sets with data at a central sheet. (See CIVER-CERTIFY)
The screen shot below illustrates how 6,000 documents relating to space vehicles can be accommodated on a single computer screen, complete with linkages to launch vehicles and launch sites.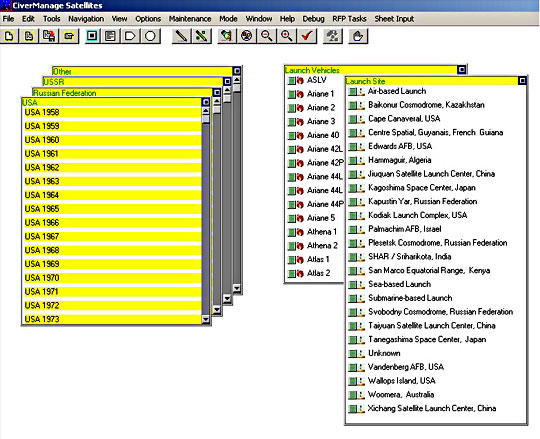 The Space Vehicle example organizes data and facilitates searches across the sheet, either in respect of finding out which vehicles from which countries were launched from which bases or in respect of differentiating military. exploratory and commercial satellites.
In the general area of manufacturing, CIVER-MANAGE can be used for contract management, engineering design change management, preparation of RFP Requests and resonding to RFPs, etc.
Copyright© 1995-2014 Civerex Systems Inc.