CIVER-PSYCH®
Benefits
10 Reasons Why
Unique Features
Components
Clinical
Reference Materials
Scheduler
EHR
Billings and Claims
Data Warehouse
Development Tools
Add-On Products
CiverExchange™
CiverExtract™
CiverMail™(mid 2016)
CiverOrders™
CiverSubmit™
System Requirements
Hardware
Software
CiverMail™ (mid 2016)
Point-of-Care Messaging
CiverMail™ is an e-mail messaging system that facilitates collaboration across CIVER-PSYCH users in respect of delivery of healthcare services at the point-of-care. The distinguishing feature of CiverMail is that inquiries (dialogs) originate from interventions along CIVER-PSYCH/CiverOrders workflows and responses to inquiries are received at these interventions. CiverMail allows messaging to become an integral part of providing services to patients/clients thereby greatly extending the range of decision-support at Order Steps and improving patient/client outcomes.

CiverMail Benefits
Provides easy access to an expert resource(s) -

Inquiries can be routed to one or to multiple members of a skill category.



Provides continuity across shifts

Message responses are directed to interventions instead of to individuals. This allows any member of a Care Management team to complete an intervention.



Eliminates Telephone tag -

CiverMail messages are typically sent to PDA/Tablet PC e-mail systems ensuring rapid receipt and response to messages.



Increases Staff efficiency -

Staff no longer need to search for responses to inquiries in conventional e-mail InTrays (e.g Outlook, Hotmail) and to copy/paste the inquiry and response to the patient/client intervention.



Decreases clinical errors -

Care Management Team members can easily consult supervisors/experts.



Increases patient/client throughput -

Integration of messaging with healthcare services delivery minimizes delays between consecutive interventions for patients/clients.



Increases best practice compliance and patient/client outcomes -

Collaborative decision-support increases consistency of services to patients/clients.



Integrates inquiries and responses in the patient/client EHR -

Copies of outgoing and incoming e-mail messages are automatically incorporated in the patient/client EHR.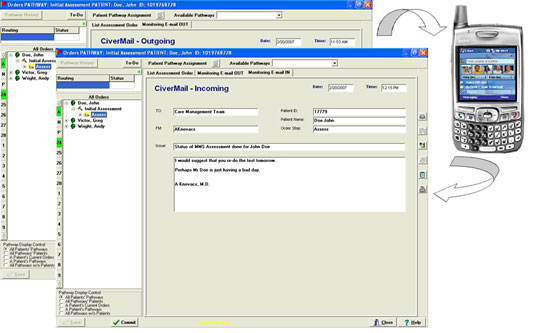 Website by EKdesigns 2008
Copyright© 1995-2016 Civerex Systems Inc.