CIVER-PSYCH®
Benefits
10 Reasons Why
Unique Features
Components
Clinical
Reference Materials
Scheduler
EHR
Billings and Claims
Data Warehouse
Development Tools
Add-On Products
CiverExchange™
CiverExtract™
CiverMail™
CiverOrders™
CiverSubmit™
System Requirements
Hardware
Software
CiverExtract™
Data Consolidation
CiverExtract™ is a data consolidation utility that periodically extracts and processes CIVER-PSYCH® demographic/clinical, scheduling, and billings/claims transactions for consolidation to a reporting database. The frequency of data extraction is at your discretion.

CiverExtract Benefits
Simplifies reporting


Agencies can build fully normalized data structures that facilitate report writing.



Maintains privacy and protection of information

(HIPAA-compliant)
Access to report scripts and executables can be made on a 'need to know' basis.



Expandable and extendable


System Administrators may add unlimited numbers of Tables and Fields.



Recycles legacy report scripts and executables


Report scripts and executables can be prepared using any 3rd party reporting application (e.g. Crystal Reports). Legacy report scripts and executables can, in most cases, be run as is.
A CiverExtract Table default starting configuration is shown below.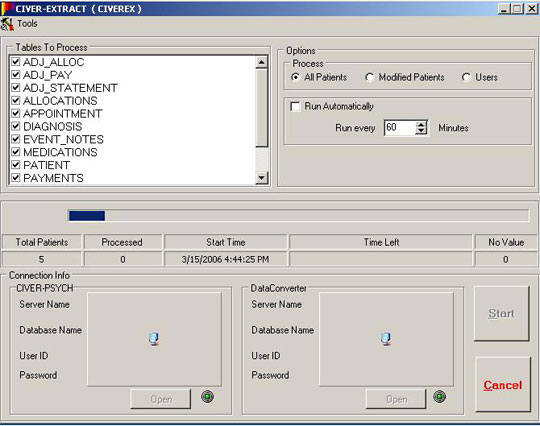 NOTE:
See documentation on CiverExchange™ for enterprise-wide consolidation of real-time transaction data across multiple application systems.

See documentation on CIVER-PSYCH for writing narrative report scripts.


Website by EKdesigns 2008
Copyright© 1995-2016 Civerex Systems Inc.