CIVER-PSYCH®
Benefits
10 Reasons Why
Unique Features
Components
Clinical
Reference Materials
Scheduler
EHR
Billings and Claims
Data Warehouse
Development Tools
Add-On Products
CiverExchange™
CiverExtract™
CiverMail™
CiverOrders™
CiverSubmit™
System Requirements
Hardware
Software
CiverExchange™
Real-Time Data Exchange
CiverExchange™ is data exchange software that allows IT administrators to enable bi-directional data interchange between CIVER-PSYCH® and any number of 3rd party application systems. It can be used in two ways: 1) in conjuction with CiverSubmit where the data to be exchanged must conform to an industry format (e.g. HIPAA, HL7, ...) or to a custom EDI format, or 2) on its own in conjuction with a custom utility to enable direct data transfers.

CiverExchange Benefits
Enterprise-wide data exchange for easy/accurate reporting


Agencies can consolidate data across any number of systems for easy reporting.

Examples:

Clinical data to a hospital at referral time (external data transfer)
Billing transactions to G/L systems (internal data transfer)
Session times to payroll systems (internal or external data transfer)




Eliminates the need for data element name translation


Each participating system can post and retrieve data using local data naming conventions.



Ensures data consistency and accuracy


Double data entry is eliminated thereby ensuring data consistency and accuracy across the system.



Flexible data exchange capabilities


The frequency of data exchange (real-time, semi-real time, or batch) can be set for each participating system.



Restricts access to data on a "need to know basis"


Security is implemented down to the individual data element for fine control of access to information.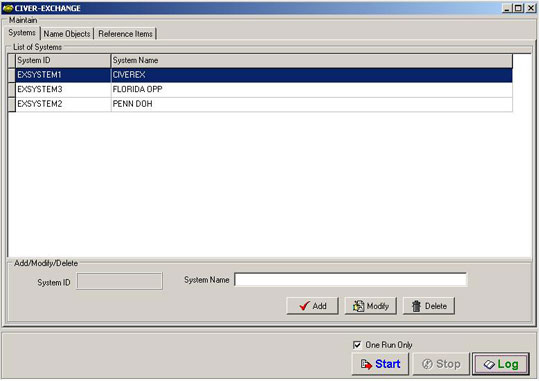 NOTE:
For external data transfers, CiverExchange can be used in conjunction with CiverSubmit (EDI application) by installing CiverSubmit on the outbound side of CiverExchange, allowing custom EDI files to be generated/parsed for each participating system.


Website by EKdesigns 2008
Copyright© 1995-2016 Civerex Systems Inc.