CIVER-PSYCH®
Benefits
10 Reasons Why
Unique Features
Components
Clinical
Reference Materials
Scheduler
EHR
Billings and Claims
Data Warehouse
Development Tools
Add-On Products
CiverExchange™
CiverExtract™
CiverMail™(mid 2016)
CiverOrders™
CiverSubmit™
System Requirements
Hardware
Software
The Billings/Claims Processing component allows billing staff to improve administrative efficiency by saving time, reducing billing errors and improving their receivables positions.

Billing staff can record charges, set payment responsibility for any number of Payors, automatically generate claims, and auto-update financial ledgers.

Paper and electronic billing can take place in batch mode using HCFA paper/electronic forms, UB04s and other invoice forms.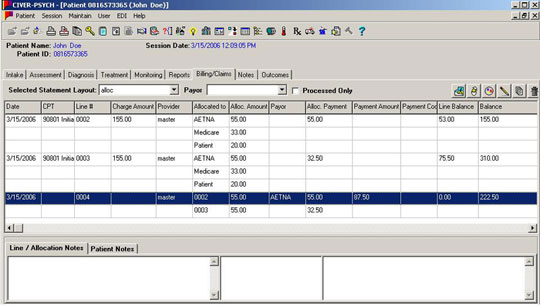 An optional Rate Reimbursement Tables Utility provides additional flexibility by allowing users to set up their own rate tables.

Other Billing functionality includes Managed Care authorization tracking, A/R reporting, Waterfall billing, and open-item accounting. For enterprise wide Provider/Payor computing, links to InfoMC's eCura Information System provide cost-effective claims adjudication, contract and risk management solutions.

Users may define their own reports using third party reporting tools.
Website by EKdesigns 2008
Copyright© 1995-2016 Civerex Systems Inc.